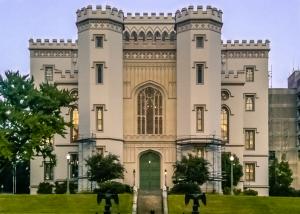 I'm going to start off by saying my future blogs will be much shorter than this. In the beginning we were moving about the country rather quickly, and much of it is a blur to me now. Once I get to the point where we start volunteering (my next blog), I'll write a single blog for each park to highlight everything we saw and did while we were there. This blog is basically picking up where the last one left off. Enjoy!

Due to complications with prior pregnancies, my wife, Amanda, and I decided to stay close to home until the delivery. Savannah was born in June 2010, and after all her doctor check-ups were taken care of, we got the old beast (called so more for it unwillingness to cooperate than for its size) back up and running. We set our sights on an in-law wedding in Holly Spring, Mississippi. We had a few weeks to putz across the country, so we planned out our route.

At the time, we had a year pass for Bush Gardens, so a visit to Amanda's father was the first stop. It was only a 3.5 hour hike, no biggie, right? We drove for about an hour when the generator took a dive. So we stopped at a small campground in Southern Maryland (hadn't even left our own state). So we took the opportunity to visit Fort Washington National Park after cleaning the generators carburetor. Back on the road the next morning, no harm, no foul.

The visit with dad and mama in-law went great. Quality time spent and some fun at Bush Gardens, then onward we marched. Along the trail we passed through Danville, North Carolina. If you ever happen to find yourself there, The Checkered Pig is a must eat! It was featured on the Food Network, The Travel Channel and Versus Network.

Our next stop was Guilford Courthouse National Military Park in Greensboro, North Carolina. The battlefield park was beautifully kept and as informative as most others we have visited. During one of our many visits to Gettysburg Amanda decided she wanted to start collecting national park stamps. So she was thrilled to have another addition to her passport.

We rolled into Rock Hill, South Carolina (beautiful little town) and stayed at Andrew Jackson State Park. We spent some time talking to the volunteers working the office. That definitely sounded like a good (and cheaper) way to see the country. We stopped by Kings Mountain National Battlefield, and then pressed on.

Aiken, South Carolina was the next stop. It seemed every little town we ran into was quainter than the last. We overnighted it at a Walmart so we could take a little time to explore the town. Aiken is definitely on our plan to revisit someday. At the rate we were moving, it really took away from time to sightsee. This made us give volunteering even more consideration.

Our next planned stop was Athens, Georgia, but we had to make a stop in Augusta due to another generator problem. The carburetor was shot. We stayed there at the repair shop overnight, as they were expecting the replacement to be sent next day. Thankfully the part arrived early and we were on the road again in a reasonable amount of time.

My wife's half-sister lived in Athens, and we had planned to stop for a short visit. It turned into a week visit because the refrigerator was next to give us a fit. After talking to my cousin in Atlanta, he said he had a big ice chest we could use. Being so far apart, he was also delighted to have us visit a few days.

On the way to Athens, we saw a sign for Harlem, Georgia, "Home of Oliver Hardy". Well, we couldn't pass that up. No campground to be found, so we figured we'd find a place to "boondock" for the night. We found a local police officer, "sure just park it in that lot for the night. I'll let the oncoming shift know." It was dark, but it wasn't long before we found the train tracks across the street. All in all (beside the hourly late night train) it was a cute little town with a Laurel & Hardy Museum. On to the next town!

With the expense of the carburetor replacement, we definitely didn't have the money for a fridge repair right away. So until we passed back through Atlanta, we were stuck with this giant ice chest in our shower. Filled with our food, it had to be constantly maintained with ice, and with my back problems, Amanda had to remove it every time we wanted to shower.

After a few days in Atlanta we took a short jaunt north to Chickamauga National Battlefield, than we were west bound. We had a destination and nothing was stopping us! We made it to Holly Springs, Mississippi with a couple days to spare before the wedding. What an adventure, but it wasn't half over.

After going that far, we weren't content with just attending the wedding. We wanted to see some more sights. We spent a day in Memphis and Graceland was nice, but outside of that most of the city was a bit ghetto.

The day came for us to scoot on, and we had our sights set on Vicksburg. Living close to Gettysburg for so long, we had heard of Vicksburg and we had wanted to see it for some time; so what was another 3.5 hour drive west going to hurt? The closest campground we could find with availabilities was about 15 minutes east of town, Askew's Landing.

We had been on the road over two weeks at this point. Our tanks were getting emptied regularly. We had made stops at other campgrounds along the way. We even found out that some county/city public works would allow dumping for free. I really wanted to give them a good cleaning though. So I ran a hose in to the toilet and let it do its thing.

Due to neuropathy problems, the doctors had me on Lyrica for a few years. The stuff ruined my short term memory. So, Amanda says, let's take Savannah and our dog, Traveler, for a walk. Fifteen minutes later we return to an RV with water spouting out the front door. The water was still running into the toilet, and now throughout the rest of the RV. I do recall saying, "Someday we are going to look back at this and laugh". As I write this, there is almost a smile, so maybe that day will come soon…

About our third day in Vicksburg I struck up a conversation with a police officer. I asked him if he knew of a place we could boondock in town. He pointed out the parking spots right there on the river front. He told me to just move it to a new spot once a day and nobody will bother us. Vicksburg City Public works gave us a place to dump and fill our tanks every other day, so we were happy we could take our time sightseeing.

The refrigerator problem was taking its toll though. We were lucky to find a free National Park campground on the Natchez Trace 15 minutes south of Vicksburg. We figured we could hold up there till I received my next pension check from the police department, then we could carry on.

The campground host volunteers there were some wonderful people. They spoke to the police officer that patrolled the campground for us and he stopped by and told us not to worry about the 14 day stay limit. We only needed a few extra days for payday anyway. The hosts also let us pull around and dump our tanks at their site every few days.

Still a bit green behind the ears, but quickly becoming camping pros, we befriended the neighboring camper. He asked if I had been leveling the RV. Now, growing up I had done some camping with my dad, and I do recall him saying the camper had to be leveled after every set up. But the guy at McGeorge's RV that sold us the RV told us motorhomes didn't need to be leveled unless it was pretty steep grade. So we took some time to make sure it was perfectly level, cut the power to the fridge, and viola we were back in business.

We had no intention of ending up in Baton Rouge, or New Orleans when we initially left Maryland. But now our problems were solved and we had time to spare before we were due back to Maryland for a friend's wedding. Hearing that Baton Rouge was this big city, I expected a Baltimore like setting. It was nothing of the sort. Even the "rush hour traffic" was nothing compared the late evening traffic I was accustomed to. Granted, New Orleans was a different story as far as traffic goes.

Having a few different Walmart's, and Cracker Barrels, we boondocked our stay in Baton Rouge, although our favorite was the little Green Walmart Grocers. It was in a nice section of town just a few blocks from the college dorms. I've never seen such a clean beautiful city. It was quite the contrast from New Orleans.

We arrived in New Orleans the night before Halloween. Our first glimpse of Bourbon Street the night before Halloween made us decide to arrive earlier in the evening on Halloween. We figured maybe it wouldn't be quite as crazy. Apparently, it's just always crazy. We didn't stay very long; we didn't feel it was an appropriate place for Savannah, or the dog…

The first night in NOLA, we stayed on the Walmart parking lot on Tchoupitoulas. The adjacent lot was a repair facility for the NOLA Police Department. The next day, speaking with the Sergeant, he said we were welcome to stay on their lot as long as we liked.

We decided daytime would be the best time to see the sights of NOLA. So around 11am one morning, middle of the week, we found us a parking spot just off Bourbon Street. I step out of the car to see someone urinating on the tire of a car parked across the street. I was wearing my new shirt from Chickamauga National Battlefield and another guy approached me and asked about it. He was barely holding himself up as he slurred, "Whhat war is that?" I answered, "A battle from the Civil War". "Wwhhoo won that war? He asked, "…The north" I told him. He says, "Yer lyin'! Where you from!?" I told him, "Maryland". He says, "Oh… Maybe yer not lyin'."

We found a state park about 20 minutes away to make runs for dumping and filling our tanks. We hung around for about two weeks, but started feeling a bit uncomfortable after hearing gun shots around the corner.

The trip back to Maryland is a bit of a blur. We didn't do nearly as much sightseeing. It was smooth sailing till we hit Montgomery, Alabama. When we bought the RV, I specifically asked the salesman how the tires were. He told me they were practically new (avoid McGeorge's RV). We had a blow out on I85, with barely a shoulder to park on, and a few miles to the next exit. Did I mention it was almost 10pm?

An hour later and we were back on the road. We stopped back by my cousin's place for a couple days and returned his ice chest. It was a real relief to get that big thing out of the way. From there, we parked the RV on my cousin's empty lot where his new home was to be built and made a bee line for Maryland in the car.

You'd think we'd quit after that, but we're not easily deterred. We knew there was a way to make it work. Volunteering was the answer, which we fell into on our next adventure.